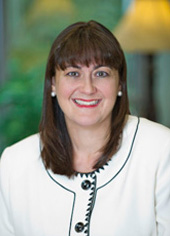 Monica Gilroy NTP
Managing Partner
The Gilroy Firm LLC
A founding principal of The Gilroy Firm LLC, Ms. Gilroy is the firm's managing partner and has over 30 years of experience as a practicing trial attorney, specializing in real estate litigation. She received her Bachelor of Arts in Political Science from the University of Wisconsin and a J.D. from the University of South Carolina School of Law. In addition, Ms. Gilroy attended the Ealing College of Higher Education in a study abroad program.

Ms. Gilroy began her legal career in general practice, in which she honed her civil litigation trial skills. She transitioned to a position as an associate in a fiduciary law boutique, handling trust and estate and real estate litigation for major banks across the United States.

In April 2007, Ms. Gilroy formed her current firm. At the time of its creation, the firm was the largest woman owned law firm in the Southeast. The firm is a certified Woman Owned Busines by the WBENC. Ms. Gilroy is an active trial attorney as the focus of her national litigation practice includes all aspects of real estate litigation, including property management issues, title insurance defense, lender liability defense, creditors' rights litigation, fair housing, foreclosure and title disputes, regulatory compliance, broker and agent liability defense, mortgage fraud-related litigation and civil and commercial contract disputes. She also leads the Default Department providing national foreclosure, bankruptcy, and loss mitigation and eviction services.

During her career, Ms. Gilroy has served as the litigation liaison for leading lending institutions as well as managed their national bankruptcy litigation program. She continues to serve as counsel for many national and local banks, mortgage companies and real estate industry lenders and leaders. She regularly assists closing attorneys, real estate agents, property managers, title companies and brokers when title or other contract issues arise. She serves regularly as a Special Master in Fulton County. Ms. Gilroy has extensive lead counsel trial experience and frequently appears in all of the state and federal courts of Georgia, including the state and federal appellate courts serving as lead Appellate Counsel. She is also a member in good standing with the United States Supreme Court.

Sessions
Legal Landscape for Title Agents: Limiting Title Claim Liability and the Lifecycle of a Title Claim
October 11 · 2:30 pm · Broadmoor Hall D